Top 3 Benefits of Living An Organized Life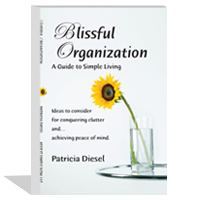 1. Decreases Stress
Not having clutter around reduces your worry and anxiety. Next time guests drop by you don't have to panic and scramble to hide things.
2.You Can Breathe Easier
Living without clutter is good for your health. Excessive clutter may contain mold and other toxins that can complicate health issues and cause breathing problems.
3.Clears Your Mind
A clutter-free environment frees yours mind and aids in focus and concentration. Clutter causes chaos and can interfere with your brain's ability to process information.
https://patriciadiesel.com/wp-content/uploads/2017/07/Logo_New-1.png
0
0
KISN
https://patriciadiesel.com/wp-content/uploads/2017/07/Logo_New-1.png
KISN
2018-10-31 14:42:15
2018-10-31 14:42:42
TOP 3 BENEFITS OF LIVING AN ORGANIZED LIFE