Today I received an email from Neale Donald Walsch. The point of the message was to reassure us that we all have the ability to rewrite our life story.
In other words, it's okay to give up our past.
How often do we get locked up in our old experiences and think that we have to live that story out – all that "stuff" that has nothing to do with who we are now.
Not only is it unhealthy, but it keeps us stuck and prevents us from living out our greatness.
In case you are not familiar with Neale, he is an International Best Selling Author who's books are inspired by God.
Here's a picture of us: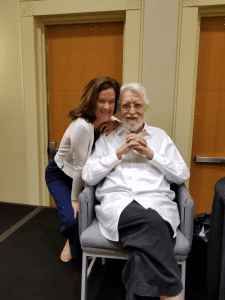 The email reminded me once again why so many people struggle with clutter.
Clutter is just an outward manifestation of what we are continually telling ourselves – the drama, the disappointment, the pain of our messy life experiences.
The reason why people have clutter is because they are stuck in their story!
But there is a way out!  And there is a new story just waiting to be told.
I explain all of this in detail and show you exactly how to let go and re-write a new story, step-by-step, with The Keep It Simple Now System.™ People are raving about it because they are getting results –  and I know you will too!
Are you ready to get unstuck and simplify your life?  I hope so – I truly do!
You can learn how to do that by clicking on the link below. (You'll see all the juicy testimonials inside.)
CLICK HERE TO SIMPLIFY YOUR LIFE
https://patriciadiesel.com/wp-content/uploads/2017/07/Logo_New-1.png
0
0
KISN
https://patriciadiesel.com/wp-content/uploads/2017/07/Logo_New-1.png
KISN
2020-02-18 19:34:50
2020-02-18 19:38:36
Ready to simplify and give up all that "stuff?"